BOOKS
Coming Fall 2023: OUR UNDERWATER WORLD, A First Dive into Oceans, Lakes, and Rivers, illustrated by Lisk Feng, published by Phaidon Press. The third in the acclaimed OUR WORLD series explores underwater habitats and the creatures who live there, from freshwater ponds to the deep ocean floor.
---
Now available: a stunning companion to the bestseller Our World, this extraordinary book is a beautiful and accessible introduction to the world's seasons, which, after reading, transforms into a 3D globe.
The youngest readers are invited to identify and experience the Earth's amazing seasons around the globe through rhyming verse and lush illustrations: frosty winter, blossoming spring, bountiful summer, colourful autumn. Secondary text offers detailed curriculum-focused facts that encourage children to consider their own environments, making the experience personal yet set within a global backdrop. This informative homage to Earth's seasons is sure to inspire children to learn more about their planet – and to engage with the world around them.
Preorder your copy now!
---
The stars of the celebrated Pug Meets Pig and Pug & Pig Trick-or-Treat are back in this funny and timely tale about learning to get along.
Pug and Pig and their friends Robin and Squirrel love digging in the garden and zooming around the backyard together. But there's another "friend" in the backyard who isn't quite so friendly. That's Cat. What does Cat love doing? Cat loves sneaking up on Pug and scaring him! Pug does not think this is funny. And he does not like it at all. But when thunderstorm comes and Cat gets scared up a tree, Pig, Robin, and Squirrel can't get him to climb down.
Only Pug can help. But will he?
---
A read-aloud introduction to geography for young children that, when opened and folded back, creates a freestanding globe!
Children are invited to identify and experience the Earth's amazing geography through rhyming verse and lush illustrations: from rivers, lakes, and oceans deep, to valleys, hills, and mountains steep. Secondary text offers more detailed, curriculum-focused facts and encourages readers to consider their own living environments, making the reading experience personal yet set within a global backdrop.
This informative homage to Earth is sure to inspire readers to learn more about their planet – and to engage with the world around them. OUR WORLD was named one of the best books for kids of 2020 by Parents magazine. (Read more)
---
My family is into cars, especially red cars, and I've wanted to do a vehicle book for a long time. It's a dream come true to see ALL EXCEPT AXLE published by Aladdin/Simon & Schuster. Liza Manuzak Wiley is the illustrator, and I'm crazy about automotive world she's created. ALL EXCEPT AXLE rolls off the assembly line Sept. 22!
Perfect for fans of John Cena's Elbow Grease and The Little Engine that Could, this winning, playfully illustrated tale shows that even the new car on the block can accomplish incredible things if he believes in himself!

Axle is a brand-new car, fresh off of the assembly line. It feels like his tires have barely hit the pavement when it's time for all the newbies to move out! Axle watches the other cars zoom onto Earlene, their transport truck, but can't quite seem to put himself in drive. What will happen at the car dealership? What if he's not ready for his road test? (Read more)
---
Meet Pug. Pug is one happy pup. He has his own yard, his own bowl, and his own cozy bed. That is, until Pig moves in! Pug Meets Pig received a starred review from Publishers Weekly and is featured in the Scholastic Book Clubs.
(Read more)
From Publishers Weekly (starred): "'Pug is not happy,' writes first time picture book author Gallion in her sublimely economic, emotionally resonant text, which is also simple enough to engage budding readers."
From Kirkus: "The simple, understated text with just a few words on each page will be enjoyed by younger preschoolers and will also be accessible to new readers, and the jaunty, oversized illustrations have a cheerful, straightforward appeal that suits the text."
---
Pug and Pig are back for a heartwarming Halloween adventure in this adorable picture book that's perfect for pet lovers of all ages. Pug & Pig Trick-or-Treat received starred reviews from both Kirkus and Publishers Weekly!
(Read more)
From Kirkus: "The final scene. . . is as satisfying as it gets. Gallion's tale works on many different levels: as a look at clever problem-solving and compromise, as a friendship story, and as a text suitable for early readers, with plenty of repetition, simple vocabulary, and short sentences. . . Delightful!"
From Publishers Weekly: "If possible, the pals are even more adorable this time around, thanks to their matching skeleton costumes. . . Gallion subtly explores how the two stay true to themselves, respect what the other needs, and find common ground (namely by getting really muddy . . . )"
---
Early Readers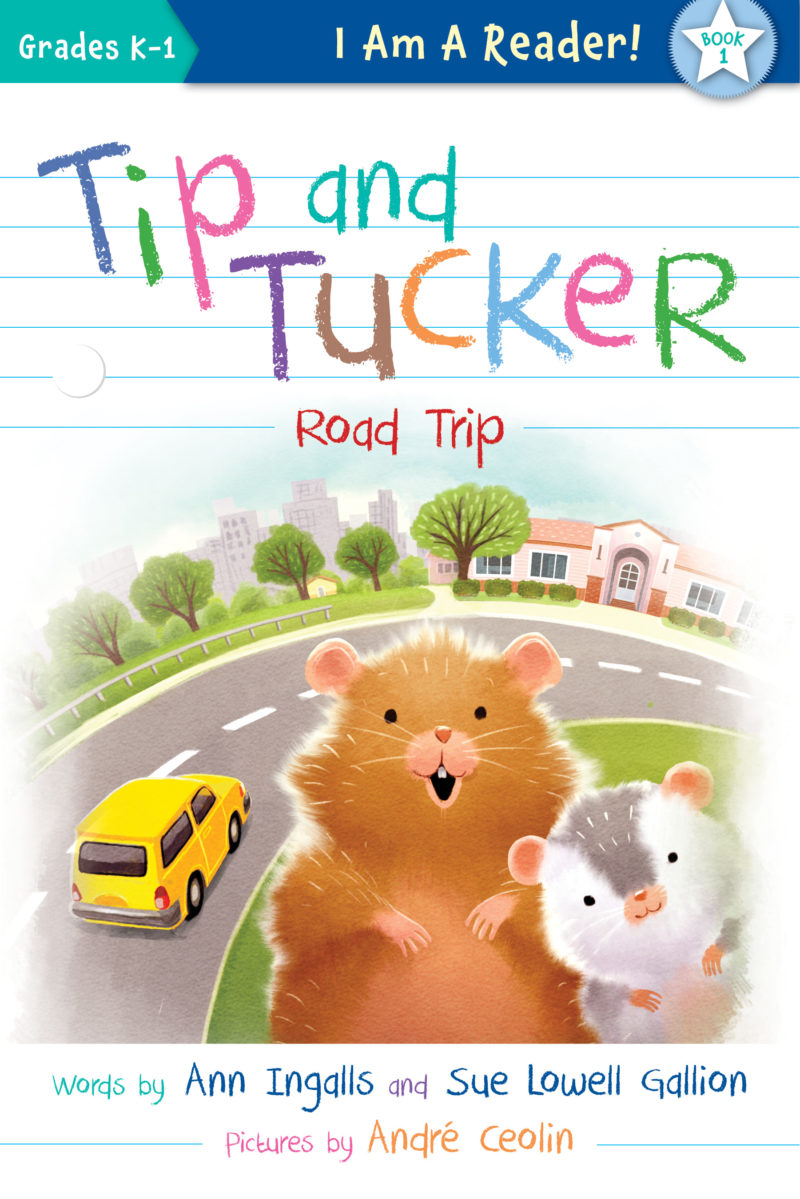 These hamsters are best friends and like to stick together. In playful, simple stories written especially for the K-1 audience, Tip and Tucker will help beginning readers explore new feelings and learn to navigate classroom dynamics and relationships.
(Read more)
From Kirkus: "Manageable for confident beginning readers, while Ceolin's adorable illustrations give children clues and nicely show the contrast between nervous Tip and reassuring Tucker. Tip and Tucker are not Elephant and Piggie, but they're cute and provide good practice for new readers."
---
When Tip gets loose in Berrybrook School, how will Tucker ever find him?
(Read more)
---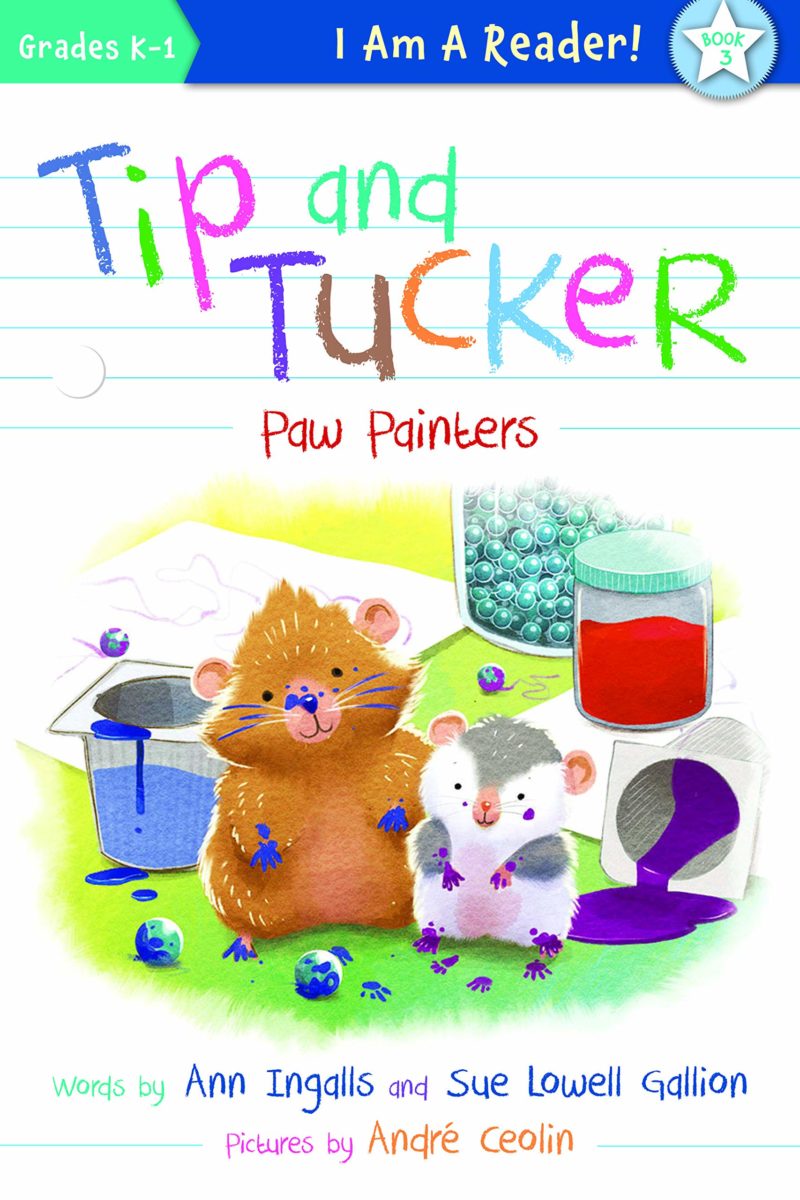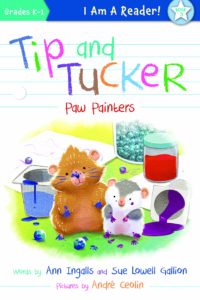 The third in the TIP AND TUCKER early reader series, TIP AND TUCKER: PAW PAINTERS, Brazilian illustrator Andre Ceolin had fun helping the hamsters become artists in the third of the series, PUG & PIG: PAW PAINTERS. The Tip and Tucker series is published by Sleeping Bear Press. Check out the Resources section of this website for an activity sheet on how to do marble painting, just like Tip and Tucker. I can vouch that it's fun (and not as messy as Tip and Tucker made it!)
In Paw Painters, the students in Mr. Lopez's class are doing art projects, and Tip and Tucker don't want to be left out of the fun. But hamsters + paint = a big mess! (Read more)
---
Autographed copies
If you would like an autographed or personalized copy of any of my books, call Kansas City's independent bookstore, Rainy Day Books, at 913-384-3126 or go online to Rainy Day Books. Rainy Day Books welcomes special orders and ships books nationwide. Bookplates also available, please use the Contact form on this website to request a bookplate.