Early Readers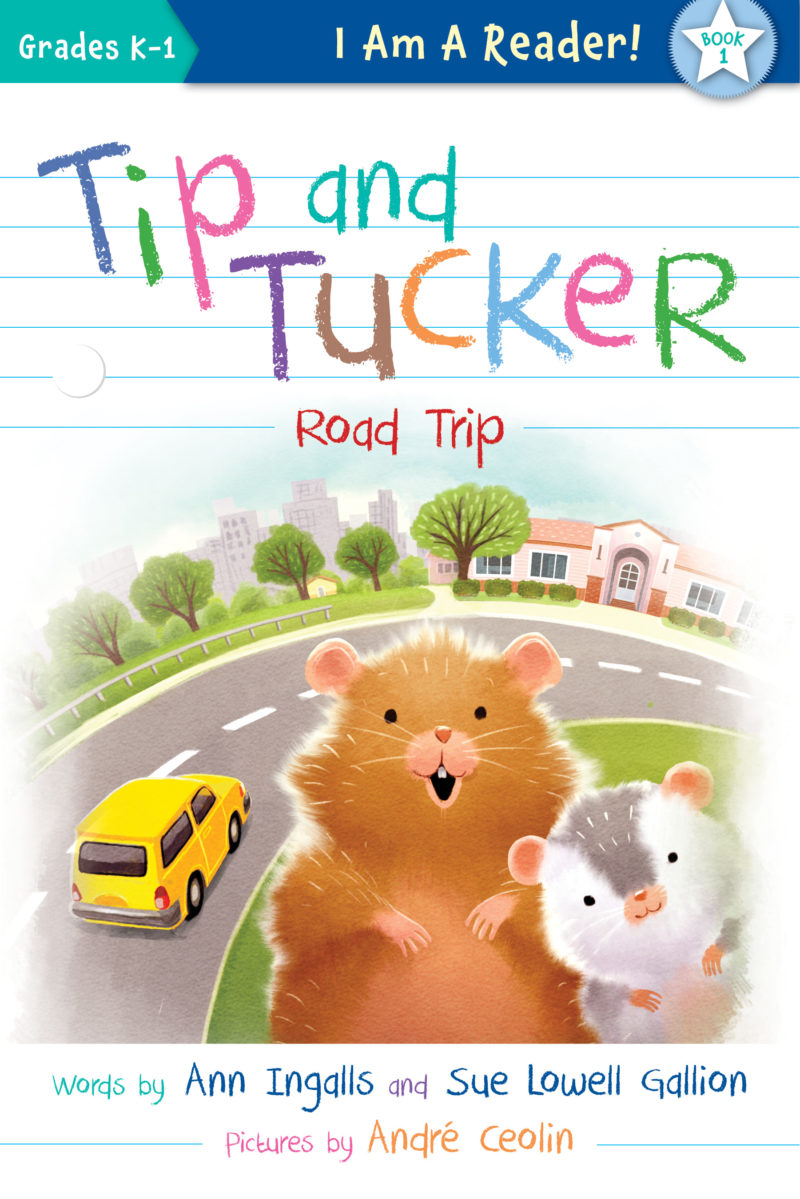 Tip and Tucker Road Trip
These hamsters are best friends and like to stick together. In playful, simple stories written especially for the K-1 audience, Tip and Tucker will help beginning readers explore new feelings and learn to navigate classroom dynamics and relationships.
(Read more)
From Kirkus: "Manageable for confident beginning readers, while Ceolin's adorable illustrations give children clues and nicely show the contrast between nervous Tip and reassuring Tucker. Tip and Tucker are not Elephant and Piggie, but they're cute and provide good practice for new readers."
---
Tip and Tucker Hide and Squeak
Book 2 in the Tip and Tucker early reading series releases in August 2019.
When Tip gets loose in Berrybrook school, how will Tucker ever find him?
(Read more)
---
---
Picture Books
Pug & Pig Trick-or-Treat
Pug and Pig are back for a heartwarming Halloween adventure in this adorable picture book that's perfect for pet lovers of all ages. Pug & Pig Trick-or-Treat received starred reviews from both Kirkus and Publishers Weekly!
(Read more)
From Kirkus: "The final scene. . . is as satisfying as it gets. Gallion's tale works on many different levels: as a look at clever problem-solving and compromise, as a friendship story, and as a text suitable for early readers, with plenty of repetition, simple vocabulary, and short sentences. . . Delightful!"
From Publishers Weekly: "If possible, the pals are even more adorable this time around, thanks to their matching skeleton costumes. . . Gallion subtly explores how the two stay true to themselves, respect what the other needs, and find common ground (namely by getting really muddy . . . )"
---
---
Pug Meets Pig
Meet Pug. Pug is one happy pup. He has his own yard, his own bowl, and his own cozy bed. That is, until Pig moves in! Pug Meets Pig received a starred review from Publishers Weekly and is featured in the Scholastic Book Clubs.
(Read more)
From Publishers Weekly (starred): "'Pug is not happy,' writes first time picture book author Gallion in her sublimely economic, emotionally resonant text, which is also simple enough to engage budding readers."
From Kirkus: "The simple, understated text with just a few words on each page will be enjoyed by younger preschoolers and will also be accessible to new readers, and the jaunty, oversized illustrations have a cheerful, straightforward appeal that suits the text."
---
---
Autographed copies
If you would like an autographed or personalized copy of any of my books, call Kansas City's independent bookstore, Rainy Day Books, at 913-384-3126 or go online to Rainy Day Books. Rainy Day Books welcomes special orders and ships books nationwide. Bookplates also available, please use the Contact form on this website to request a bookplate.